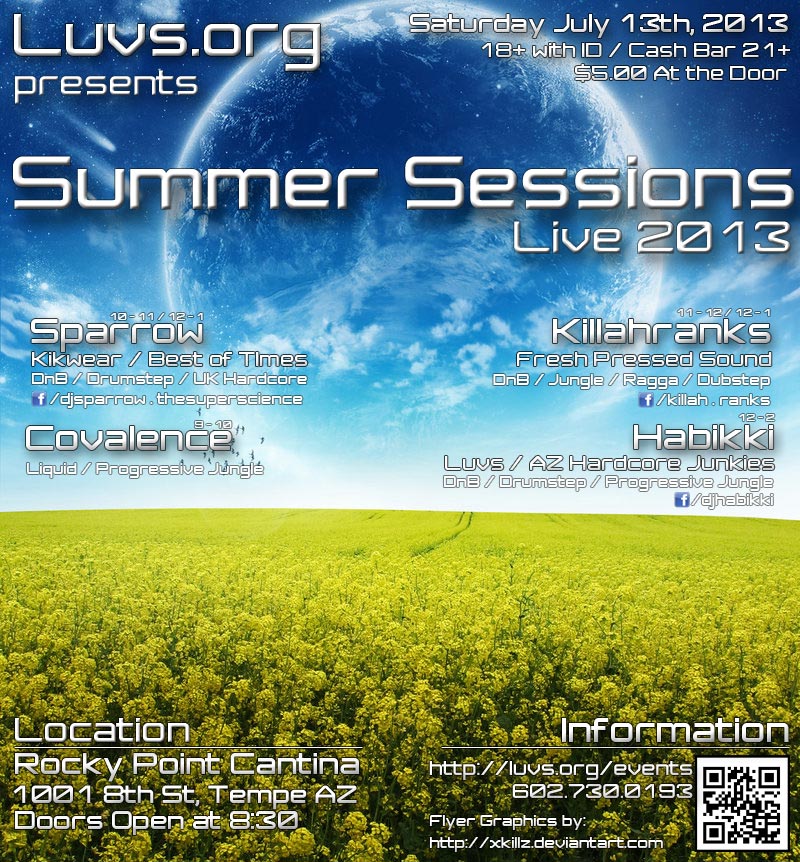 (Click the image to visit the Facebook Event!)
Returning after a decade long hiatus the Luvs Crew returns with a summer event that won't be soon forgotten!  Grown up and matured a bit so has our sound and we aim to show case a night full of bass music from the progressive and jazzy to the fast and nasty.
Located at the Rocky Point Cantina of 8th Street in Tempe (just a short walk from Four Peaks and ASU Main), a fully permitted single stage, 18+ venue with a cash bar for those of drinking age this place rocks!  With a newly renovated sound system guaranteed to do the night justice.
Lineup for the night starts out with some liquid soul from our friend Covalence, a Denver native transplanted into the valley of the sun with a passion for the jazzy, up tempo sounds of drum and bass and smooth funk of house and progressive.
Long time friend of the Luvs Camp and beloved native of the Arizona Hardcore circuit, Sparrow picks up at 10 to cook up his unique mashup of Drum and Bass, Drumstep and UK Hardcore that only he knows the recipe.  Expect smooth transitions of harmonic tunes contrasted with heavyweight sounds of the UK in this hour long funfair you won't want to miss!
No stranger to the Arizona drum and bass circles, at 11 extended family member Mike D brings out his Killahranks persona with an upfront blend of Ragga and Jungle sounds.  Not to be confined to a single genre, Mike's sets always leave something to be remembered and is a diamond in the rough for the Senoran Desert.
The headlining act isn't just one person but THREE as the talents of Sparrow, Killahranks and Habikki combine for an hour long tag session spanning 4 turntables that'll bring fast transitions across all genres of bass music!  To pull something like this off you need great talent that can build off each other, professional conduct to make it sound good and a touch of insanity to let the set reach maximum potential and these three have all bases covered to ensure one memorable experience!  Not to be missed!
Closing the night off proper is the eclectic sounds of the Luvs founder, Habikki.  Although the event is more themed for Drum and Bass, Habikki always plays to the crowd blending genres of EDM to fit the mood of the audience.  Be prepared for bass and fast mixing of high energy vocals with fierce breakbeats and the occasional 4 beat segment as the situation presents itself.  This Arizona veteran's return should leave a unique mark as he showcases talent and taste missing from todays landscape.
All this for a fiver at the door is a recipe you can't pass up.  This isn't a RAVE, this is good music played by good people at an awesome location.  Come experience something new, bring a friend and meet some more.  Spread the word and ensure a Winter Session follows suit!!
Special thanks to the original Luvs members: Michael Petrelli, Squintz, Cupp and Maureen (my darling fiance!).  Extended thanks go out to Sparrow, Mike D and Covalence for making this night possible.  Miss Jag, Robots vs. Zombies, Musa Mind, Louder, Matt Dunn, Sabrina, Courtney, Shasta & Havok for always serving as an inspiration.  First beer's on me this night.